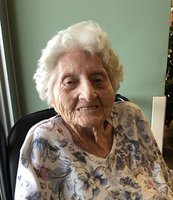 Irene Elsie Cowan

Cowan, Irene
With sadness, the family of Irene Cowan shares the news of her passing on February 17, 2021 at St. Joseph's Villa in Dundas, On.
Born in Dorset, England on November 12, 1922.
Irene married Bob Cowan and moved to Canada after WWII. Together they raised five children and enjoyed watching their grandchildren and great grandchildren arrive and grow.
Irene is survived by her two daughters, Donna & Lorraine, her son-in-law Allan and many grandchildren and great grandchildren. She was predeceased by Bob and several children and grandchildren.
A private funeral service will be held on Sunday February 21, 2021 at Denning's Funeral Home. Internment will follow at St Mary's Cemetery. A livestream of the service can be viewed on our website. If you wish, donations may be made online to The Cowan Family Scholarship Fund through the Hamilton Community Foundation at https://www.hamiltoncommunityfoundation.ca/impact/stories/bob-irene-cowan/
Funeral arrangements entrusted to Denning's of West Lorne. A livestream of the funeral service can be found by clicking here. Share a memory at www.westelginfuneralhome.com