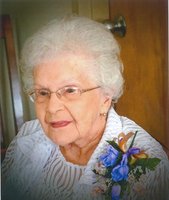 Olive Lillian Howard
Howard, Olive Lillian
Olive Lillian Howard passed away peacefully on June 24, 2021. She was born in Windsor, Ontario on June 18, 1929. Many knew her by the nickname "Terry" which was given to her by high school friends.
Olive was the beloved wife of Victor Howard (2008) for 59 years and daughter of Arnold and Verna Ripley. She is survived and loved by her two children Richard Howard (Cherie) of West Lorne and Elaine Howard-Smith of Didsbury, Alberta; missed by grandsons Jason and Isaac Howard, and Greg and Jesse (Amber) Smith; precious great-grandchildren Becky Quipp, Jeremy, Isaiah and Isabella Smith, and Bree Smith. Olive had a loving sister Winnifred Howard (2013) [Harold Howard (2004)], as well as her extended family of the Humphrey's and Patterson's.
Olive attended and served at the Rodney Christian, Rodney Baptist and West Lorne Baptist Churches, and felt very blessed by her Lord and Savior Jesus Christ.
Visitation is Sunday, June 27th, 2021 at Denning's of Rodney. Registration is required to attend. Please sign up here. A memorial service will be held at the Denning's of Rodney on Monday, June 28th, 2021 with Pastor Corey Hughes officiating. Please register here. Donations payable by cheque to West Lorne Baptist Church would be very much appreciated. Share a memory online at www.westelginfuneralhome.com.