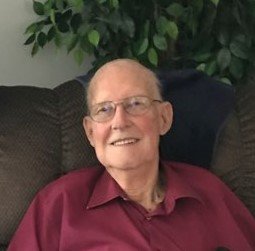 Obituary of Ernest Lorn McFadden
Ernest Lorn McFadden
August 19, 1932 – January 7, 2021
The head of the table is vacant
The Lazyboy is still
Our hearts are empty
And our eyes are sore
Ernie passed away peacefully, Thursday, Jan 7th 2021, in the home he built 67 years ago. He raised his family, sat with his grandchildren and watched his great-grandchildren make this home the center point of a loving big family. Ernie was the definition of a family man that set the standards for the rest of us.
Ernie loved and is survived by his wife Barbara (nee Stocking), his children Debbie, Joanne, Richard (Gwen), Brian (Carol) and Tim (Diane). He has left behind 13 grandchildren Nicole, Jason, Rob, Julie, Amanda, Crysti, Tyler, Allie, Matt, Baby Timothy (we didn't get to know), Gayle, Tiffany, Ashley, and Kelly. Ernie will be missed by 14 great-grandchildren Danielle, Ava, Will, Hunter, Marley, Phoenix, Declan, Mason, Nixon, Kinley, Carter, Chase, Ryder and Grace.
Ernie will be remembered by his siblings Hugh (Joyce) and Betty. Predeceased by parents Otto and Charlotte McFadden, and 7 siblings Gerald, Mildred, Glen, Kenneth, Gordon, Eugene and Marie.
He met his soul mate, Barbara, at a dance and has danced many miles with her over the 66 years of their marriage. Dancing was one of his favorite things to do. He cherished his big truck, "Kentucky Blue" his '79 Lincoln, his old dog "Blue" and get-togethers with family and friends.
The times the whole family went to church were really something special. You would often see him wipe a tear. Ernie was very sentimental, true to his word and always punctual. Stubborn, frugal, proud, hardworking, lively, stoic and kind, he lived his life to the fullest. He always listened to country music in the truck, the car or the house, but you wouldn't catch him singing to it. He liked to whistle. Ernie was an active and leading member of the community. He was a member of the Calvary United Church and an active member and co-founder of the Elgin International Club since it began in 1970. Ernie served as President for 4 years and a board member for another 10 years. He took great pride in the building and at 79 he still maintained the hardwood dancing floor.
Ernie farmed for many farmers in the area over the years, from age 14 …. Jack Gillis, John Fleming, Gordon Tucks and Joe Purcell. He bought his first truck in 1957 and started a business trucking helping the farmers transport their grains, tobacco and farming supplies in the Southern Ontario area. In 1961 his brother, Hugh, joined him and they became McFadden Brother's Trucking, operating until 1977 when they sold the business. Ernie was retired for 9 months, when the road was calling him again. He bought his new Ford CL9000 "Kentucky Blue" and worked during harvest season as a "gentleman trucker" working until 1999.
A pool was installed in 1976. It was a thrill to see our children, and grandkids swimming. Now we are watching our great-grandbabies come to visit and swim. We are grateful God granted us this privilege.
Ernie and Barb started going to Florida in 1985 for a short period of time, a week or 2, that eventually stretched out to 3 months a year for the next 8 years. In Florida he enjoyed golf and met many new people whom he still kept in touch with over the years. Eventually his health seemed to slow him down.
We have wonderful children, there isn't anything they wouldn't do for us. From coming many miles or short distances to go with us to Dr. and hospital appointments, staying with us after surgery, looking after our lawn, cars and lawnmowers, TV, computers etc. Then there are the daily calls and unexpected visits with Hershey bars, shopping treasures and lots of love. God has been good to us. These wonderful children gave us 14 grandbabies, we sadly lost one grandson, and these grandchildren have given us 14 little great-grandbabies so far. We have 3 wonderful daughter-in-law's that we love dearly. We pray that we are worthy of these blessings.
It all started with a date to the dance and for that we are forever grateful. You will be greatly missed. Rest easy now. We love you.
Arrangements entrusted to Denning's of Rodney. If desired, memorial contributions payable by cheque can be made to Elgin International Club, Calvary United Church or online to Canadian Cancer Society are appreciated by the family. Please share a memory at www.westelginfuneralhome.com.
Share Your Memory of
Ernest