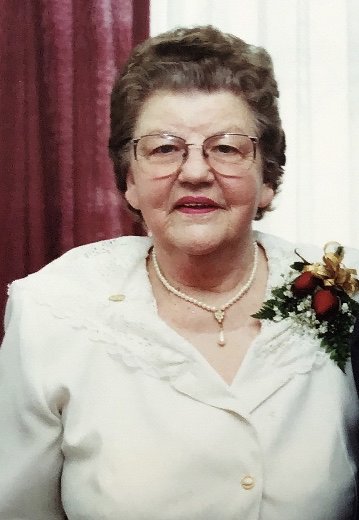 Obituary of Betty Catherine Patterson
On April 7 2021, Betty Catherine Patterson (Campbell) in her 90th year, peacefully was promoted to her heavenly home and reunited with her beloved husband, Stuart "Skip" Patterson.
Betty was born on August 19, 1931 in Rodney Ontario. She worked after high school at the Red and White grocery and met the love of her life Skip, at the Rodney Fair. They were married in April 1951 and would have been married 70 years at the end of April.
Together Betty and Skip worked hard farming until they moved into Rodney and raised five children.
Betty was a wonderful mother but also a gifted writer and teacher. She was best known as "Aunt Betty" and taught generations of children at Navigators and Vacation Bible School each summer. She would spend endless hours praying, studying and preparing lessons. She was extremely creative and created many sets for floats in parades and Christmas concerts. Betty wrote a weekly column in the Rodney Mercury/Chronicle called from "The Pastors Study" for many years. She often heard back from people that read her column that they were encouraged by her weekly devotions.
Betty was a natural musician. She attempted to take piano lessons but was told by a teacher "You just have too much ear Betty" when she would just start playing a song without reading the notes. She blessed countless people with her piano playing over the years at the Rodney Christian Mission services and Christmas concerts, Rodney Gospel Sings, Parkwood Hospital Hymn Sings, and later in life at her residence at Beattie Manor. Betty was honoured for her 45 years of volunteer service at Parkwood Hospital along with Skip in 2015.
Betty is survived by her five children, Sheila (Dave), Wanda (Gary), Wayne (Lana), Mark (Diane) and Ruth (Jeff). Betty is the beloved Grandmother/Nannie to 8 grandchildren and 8 great-grandchildren. She is also survived by her sister Jean Hurd and sisters-in-law; Eylla Rivest and Grace Campbell and brother-in-law Gerry (Betty) Patterson.
She is predeceased by her mom Agnes Campbell (Layman) and her father Daniel Campbell. Predeceased by her brothers; Jack, Floyd, Bill and sisters Rena and Florence. Betty is also survived by many beloved nieces and nephews.
She will be deeply missed by not only her family, but by the entire community. A private family graveside service will take place. A special thank you to all the staff at Beattie Manor who have gone above and beyond especially this past year. The love and care they gave to Betty was so special and staff and residents were indeed like family to her. Thank you to Dr. Jones, and the VON Palliative Care nurses for their exceptional compassionate care during Betty's last days. In lieu of flowers, donations may be made in Betty's name to the charity of your choice.
One of Betty's favourite bible verses was Isaiah 40:31 - But they that wait upon the Lord, shall renew their strength, they shall mount up with wings as eagles, they shall run and not be weary, and they shall walk and not faint.
"I remember my mother's prayers and they have followed me. They have clung to me all my life" - Abraham Lincoln
Share Your Memory of
Betty