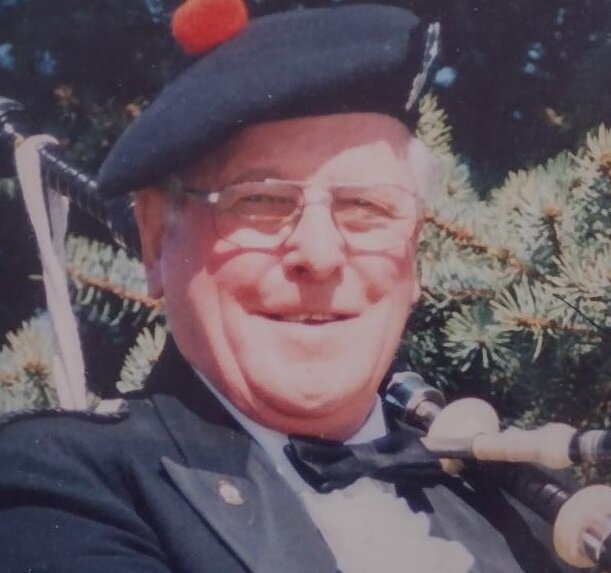 Obituary of Jim Carmichael
Carmichael
After a long life of fun, family, friends and music, James David "Jim" Carmichael passed away on Tuesday, September 6th, 2022 at Four Counties Health Services, Newbury.
Predeceased by his wife Rose (2004). Lovingly remembered by his daughter Jill O'Sullivan (Larry) of Wheatley and Brian Carmichael (Deb) of West Lorne. Dear grandfather of Jordan, Tony, Derek, Adam, Charlene and Katy Rose and his 16 beloved great grandchildren. Also survived by many nieces, nephews and his dear friend Hazel Bogart.
Predeceased by his sister Donna (Ray) Hathaway, twin sister Mary (Len) Kelly and his brother Ken Carmichael.
Jim was predceased by his friend Evelyn Gaskell in 2019.
Jim was an Elgin businessman for over 60 years. Starting at St. Thomas Automotive, which became McKerlie-Millen until 1976 when with his son and son-in-law opened Carmichael Automotive in West Lorne. The business eventually became a UAP-NAPA franchise. Jim's distinguished career was framed with honesty, intergity and with building meaningful friendships with his clients.
Jim also spent most of his life playing the bagpipes and making music with his dear friends. He was a member of the Royal Scots O'Mocha Pipe Band and the St. Thomas Police Association Pipeband as well as the music ensembles called "The Back Porch Singers" and "The Elgin County Ramblers". Jim was also a proud member of West Elgin Masonic Lodge #386 as well as the Shrine.
Friends and family are invited to a visitation in Jim's honour on Sunday, September 11th, 2022 from 1 - 4 pm at Denning's of West Lorne, 202 Main Street where a funeral service will take place on Monday at 11 am. Interment will follow at Evergreen cemetery.
An Optimist Service will take place at 1 pm on Sunday at the funeral home. A Masonic Service under the auspices of West Elgin Lodge #386 will take place for Jim on Sunday at 4 pm at the funeral home.
If desired, memorial contributions to the West Elgin Royal Canadian Legion, Branch 221 would be appreciated as your expression of sympathy.
Share a memory at www.westelginfuneralhome.com 519 785-0810.